Analyzes & reports
Based on change signals, the institute develops likely scenarios of the future for a specific market area from a medium and/or long term perspective (5 < t 20 and 20 t 50). We diagnose trends that may affect aspects of the market: products, services, communications, and consumer behaviour. We point out the consequences of future changes. The analyses prepared can be a starting point for strategic planning.
We analyse data in the context of social, economic, technological, environmental, and political trends. We analyse how consumer insights (developed e.g. during workshops with consumers or in-depth interviews) translate into the future, where specific consumer attitudes come from. To the analysis of 'the world today' we add a forecasting element, a look into the future, because all conducted research should aim to determine the directions of development of the company or organisation and is done in order to make decisions for the future.
Sample forecasting publications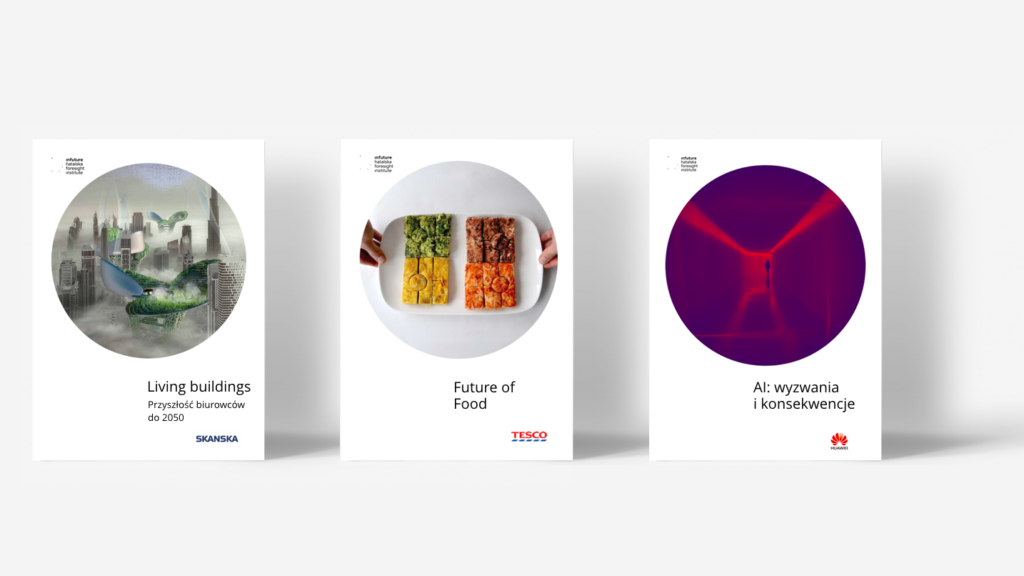 Future of the labour market, Future of TV, Future of food, Future of office buildings – these are examples of the institute's publications, developed in cooperation with the Partners, addressed to a broad audience.

A Partner in this type of project can participate in the research process, they get access to all data as well as high-quality content for use in marketing communications. This way, the Partner builds the image of a brand creating the future of the industry and market.
Reports and internal analyses
Reports and internal analyses are by their nature not intended for a broad audience and only the customer has access to them. These are forecasts for the future of the industry or market category based on the analysis of trends and change factors important for a given enterprise.
In the analysis, we use expert interviews or quantitative and qualitative research among other techniques. The study contains possible scenarios for the future and demonstrates the consequences of possible changes for the market and the company, providing a closer view of the areas of innovation that will enable your business to achieve a competitive advantage. The process ends with workshops on developing business solutions in response to the forecast scenarios. This form of cooperation is a robust starting point for strategic planning.